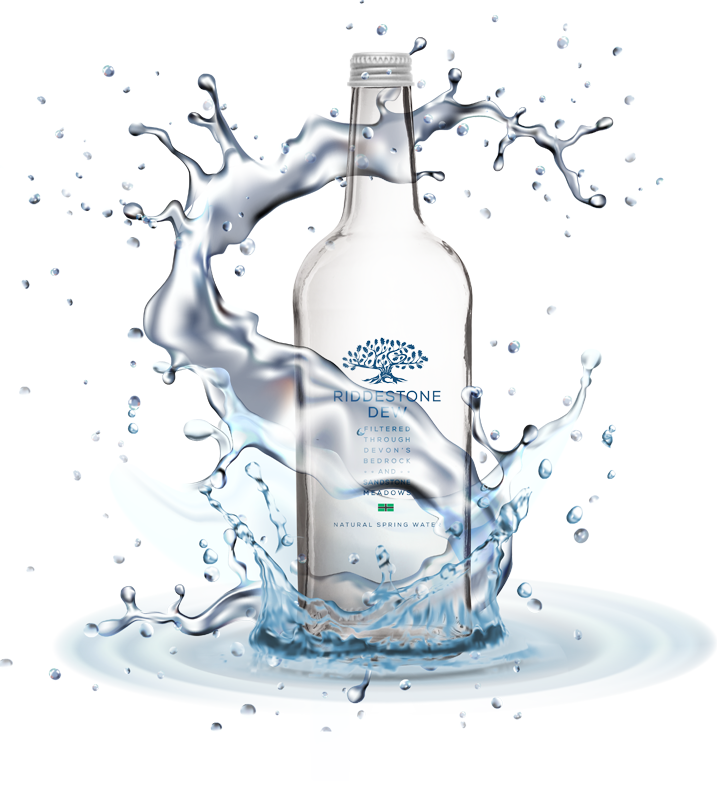 Riddestone Dew's Eco-Promise
We only use recyclable glass bottles and we also offer a refilling service which includes collection of used bottles and local delivery of refills. Of course, you are more than welcome to pop in and collect your water from us here too!
As our water is collected from our natural spring, without the need for industrial equipment, we ensure we maintain a low carbon footprint.
Pure, Crisp, 100% Natural – Refreshingly Still, Devon Spring Water.
Riddestone Dew Natural Spring Water is dew-like, fresh and crystal clear, filtered by nature here in Devon
The natural minerals in our spring water have fed and nurtured our proud and beautiful Riddestone Oak tree for hundreds of years. Gently streaming, all year round, from the spring beneath the shade of our old oak tree, our water has been filtered through the bedrock and sandstone, deep below our meadows.
Our water is bottled at source, by hand, into glass bottles; both 300ml and 750ml table bottles are available. As nature would love it most, Riddestone Dew is best served chilled.
Riddestone Dew Spring Water is filtered by nature through bedrock and sandstone.
The spring is active all year round, providing an abundance of fresh, pure water ready to be bottled, by hand, at source.
We have a Health & Hygiene Rating of 5.
With the results of over 20 tests, staggered across various weather conditions, the typical PH level of our water is 7.8.
We are very pleased to have such excellent values recorded!
Riddestone Dew Spring Water is 100% pure, fresh water.